I just finished reading (well, listening) Stand on Zanzibar by John Brunner. It won the Hugo Award, and has often been mentioned both by casual readers and by SF authors a must read, so I decided to give it a go.
I didn't like it very much, but read till the end. Some minor spoilers included.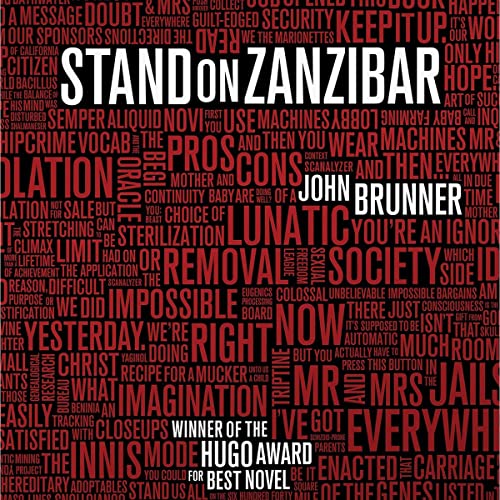 The Good & The Bad
The world building is pretty good, and the author uses the trick of having whole sections of jumbled up snippets, like zapping through TV channels, so that you get a bunch of advertisement, news reel and so on.
This is of course a common trope (my favourite Shaun of the Dead scenes plays on this) but it allows the writer to just give a ton of depth while avoiding character infodumping. It does not work too well on an audiobook, alas.
The plot lines are much of the same tho. We have multiple things happening, only tangential to each other.
There's the megacorp that wants to develop something huge in Africa. There's the afram (sic) manager which has risen quickly in the company ranks using his ethnicity. There's the super-AI owned by the megacorp which is unable to approve the plans because they're based on what it thinks are invalid assumptions. There's the rising power of China with its own super-AI. There's government-enforce eugenics, genetic manipulation, buying kids and baby farming in underdeveloped countries. The rise of a new power in south-east Asia. There's the media controlling narrative and people living in their own bubble. There's the truth-sayers which speak of the dangers of everything and are not censored, but they are basically ignored.
But, again: there's so much stuff, and so little unity. I am not saying it's badly written. It's written perfectly. It's just that I have not cared for this style since I hit 30.
The awesome
But wait, let's go back to the worldbulding: it's a really good world, and it holds together, and it feels very predictive, and modern and speaking a lot about our society.
But it was published in 1968. This means it is closer to World War I than it is to today. It's a time when computers were in their infancy, and black&white TVs were still outselling the Color ones.
The author hit so many targets that it's honestly mindblowing. And the writing still feel fresh and not dated at all.
So, I didn't like this book very much, but I have to give say: maybe read it anyway.
6.5/10
PS
The AI, Shalmaneser, refuses to predict the economic results of the company's projects in Beninia. I tried asking ChatGPT, and, alas, it also refused. So, mark one more point for the author.