Last year I read this comic by Matt Kindt, I put off writing a blog post about it for a long time, but I really wanted to do it, as this is one of the best thing I have ever read.
I read the three-volume omnibus, which was pretty complicated to get §but it was worth it.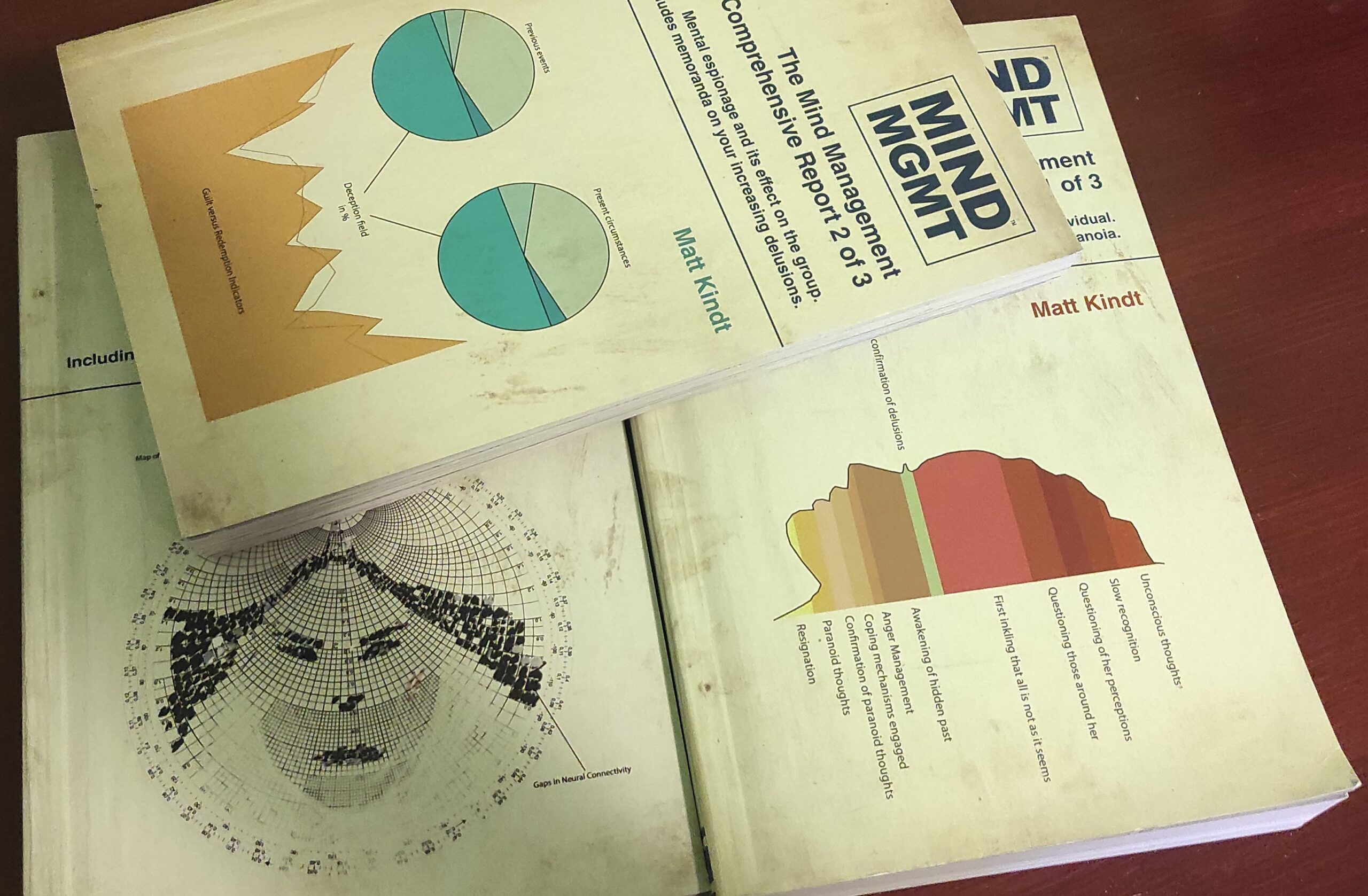 The comic book tells the story of an eponymous government agency which specializes in training and handling agents with psychic powers, sending them to operate all over the world as you would expect from any proper spy agency.
Now, Dear Reader, you may be thinking this is just another instance of the Super Children School, as seen in Professor Xavier's School for Gifted Youngsters, The Umbrella Academy, and many, many others. You're way off.
Common classes here are subliminal messages in advertisement, mass hypnosis via books and music, predicting the future, and becoming immortal. And there are monks in charge of recording the actual history of the world, to keep the agency honest.
Most of all, these are not super-heroes with super-problems with larger than life fighting scenes. These are problematic government officers working in a paranoid spy world reminiscent of the cold war, while also having god-like powers, with conspiracy theories thrown in.
The story is about a woman, Meru, who ends up discovering the existence of MIND MGMT, meeting some of its members, learning about herself, and showing by example why the agency is either a terrible evil or an absolute necessity.
But this is not what the book is about. The essence of the book is to give depth and concreteness to this world, which it does in every possible way. The pages are printed as field report forms, including dotted lines and "please write here" notes. On the page borders, you find excerpts of the MIND MGMT Field Guide, in-universe novels, songs, poetry, fourth-wall breaking messages from the characters, and so on. Also, we get "personnel files" in each number, which are small masterpieces on their own.
The faux advertisement interspersed in the book will regularly contain hidden content, in-panel text is always meaningful, and while most of this is obvious you will get stuck trying to extract information from everything.§ If a book makes you paranoid, it means it's good.
The art style is somewhat off-putting at first but improves as the books go on, and at some point it becomes implicit communication itself, which is pretty great.
The story gets meandering about 2/3 of the way, and IMO it could have been shorter and little would have been lost, but this is saved by one of the best ending I read in my life.
I regret not having read this at the time it was being published, not knowing it existed, but this comic is so good I ended up also buying a four-issue spin ogg mini series recently published, MIND MGMT: Bootleg§ and heck, I almost bought the board game too.
So, go read this, you won't regret it.
Vote: 8/10